You Received Your Invisi-Tag Starter Kit. Now What?
Congratulations on receiving your Invisi-Tag equipment tracking system starter kit! But now that you have everything you need to start taking advantage of our amazing equipment tracking solution, where do you go from here? We've put together a helpful quick start guide to get you started on the path to more efficient equipment management. Follow the steps below, watch our helpful videos, and if you're still in need of assistance, please feel free to reach out to your Invisi-Tag customer support representative today!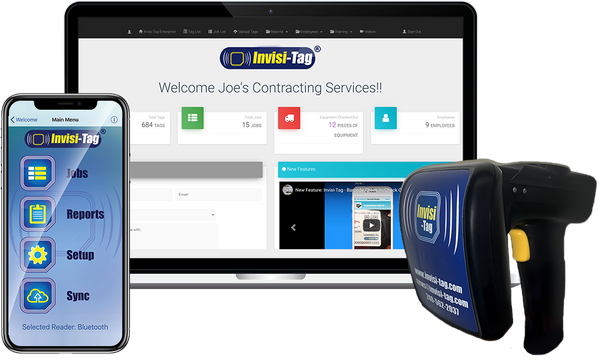 Charging & Account Setup
Before you can begin using your Invisi-Tag equipment tracking system, it's important that you first charge all of your RFID system equipment and devices. This includes charging your:
You also need to set up your account to access your enterprise website, where you can manage all your asset data and information. You'll have your own unique account information, which includes an email address and a secure password.
Setting Up The Invisi-Tag App
1) The first step is to download or upgrade to the latest version of the Invisi-Tag app (version 4.7.1). Simply search for "Invisi-Tag" in the Apple App Store or Google Play, and then click "Download" or "Upgrade".
2) Then you need to open the Invisi-Tag app and agree to the terms of our equipment tracking system and app.
3) Finally, open the Invisi-Tag app and input your unique login information provided to you. You will then accept the terms and press the "Begin" button.
Setting Up Your RFID System
4) It's now time to set up your RFID reader so you can begin applying RFID tags and scanning your equipment. Select "Setup" and enter the universal password "8230".
5) Select "Tag Assignment", press the RFID reader's trigger and the reader will connect in about 20-25 seconds. Confirm your reader "BT-INVXXXX", which will have its own unique identification number.
6) At the bottom of the screen, adjust your RFID reader's read range to 20%. Then select an RFID tag and pull the reader's trigger. Fill in the equipment information and accept. Finally, place the RFID tag on the asset.
Scanning Jobs & Location Assignment
7) Now you can start a Job Scan! Go to "Jobs", then "Transfers", and in the upper-right corner select "+". Create a location, select a location type, and complete optional notes.
8) Select your location to scan to from the list, pull the RFID reader's trigger and point the reader at your equipment. Detected tags will be green. Confirm and select "Transfer" (upper-right). You have completed an equipment location assignment!
Verifying Equipment Inventory
9) To verify your equipment inventory, go to "Jobs", select "Inventory", select your location name, connect reader, point the RFID reader toward the equipment, and pull the trigger.
Verified RFID tags are green, missing tags are red, and detected tags are yellow.
Watch More Invisi-Tag Video Guides
Please watch more video training and tutorials to learn more about the functions within the Invisi-Tag equipment tracking system and you'll be up and running in no time!
Thank You For Your Order!
Our entire team is committed to achieving more than the highest level of customer satisfaction, and we request your feedback to help us continually improve. If you are not satisfied with our equipment tracking system, please give us the opportunity to make things right by contacting us. We promise to do the best we can to make you completely satisfied!