Save Time Doing Inventory & Reduce Labor Costs
Invisi-Tag Equipment Tracking System Saves URI Time Doing Inventory, Reduces Labor Costs
At A Glance: How We Helped Unlimited Restoration Inc.
Unlimited Restoration Inc. faced a significant logistical challenge managing six separate locations spread across four different states. That amounts to 3,300 pieces of equipment and the perfect storm for losing valuable assets. By using the Invisi-Tag equipment tracking system, URI drastically reduced the amount of time spent doing inventory, which saved the company expensive labor costs while at the same time freeing those employees to go to job sites and actually generate revenue for the business! Learn more about how Invisi-Tag helped URI transform its operations into a quicker, more efficient, and budget-friendly process.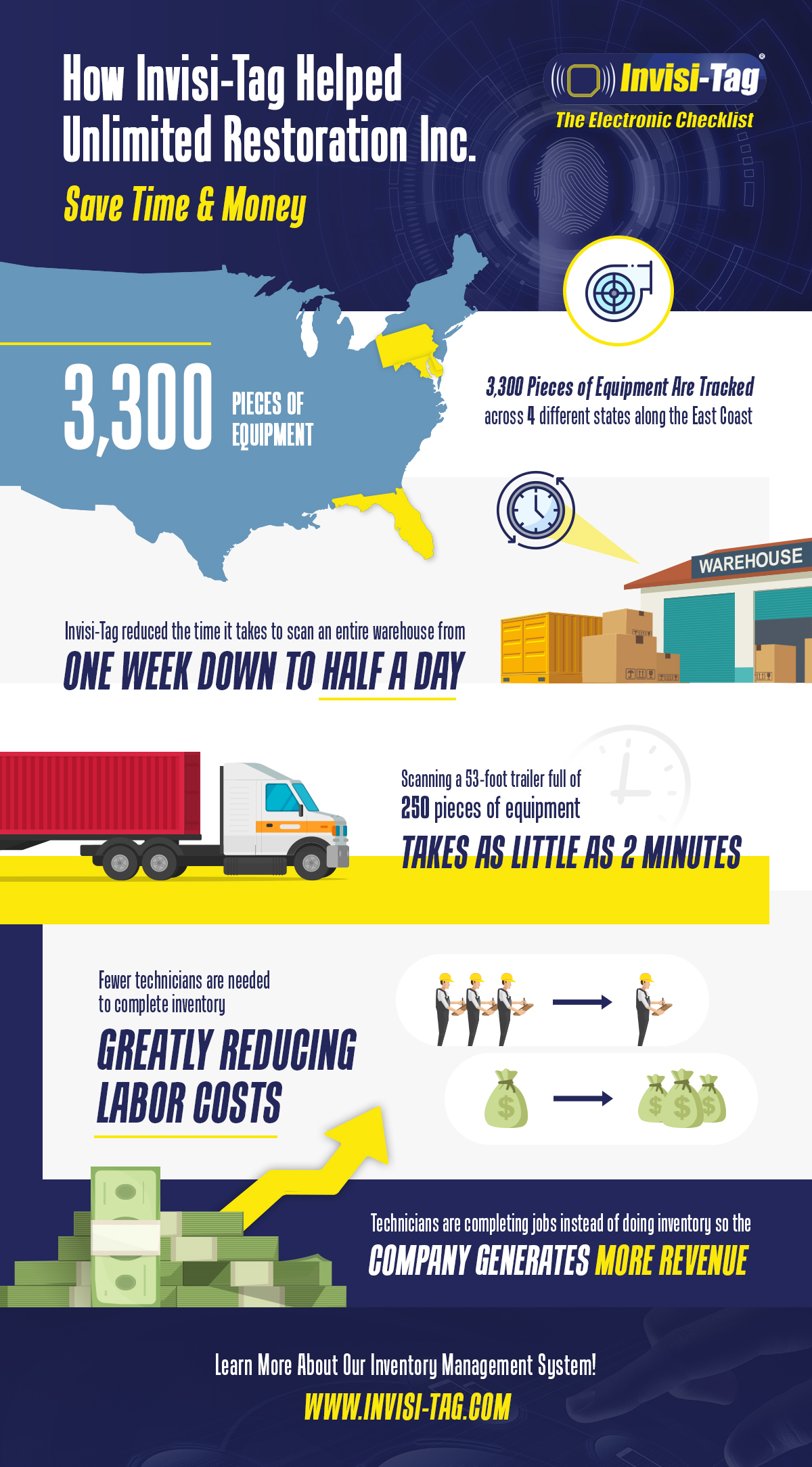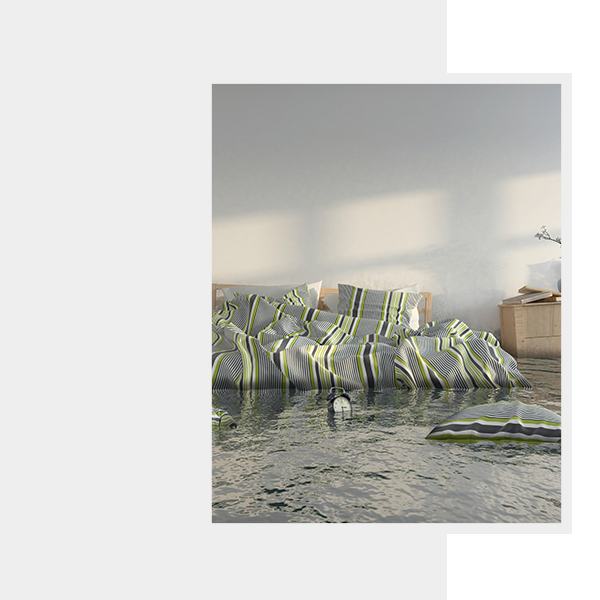 OPPORTUNITY
Since 1996, Unlimited Restoration Inc. has provided a full range of restoration services along the East Coast, stretching from Pennsylvania to Florida. URI handles water damage, fire damage, mold, and reconstruction, primarily for the commercial and industrial marketplace.
URI proudly offers a reliable safety net for businesses with an emergency services hotline available 24/7, and services virtually every industry from industrial and retail to healthcare and government sectors.
They often serve as first responders to disasters, helping to contain the source and stop the spread of destruction to create a safe environment, as well as restoring the damaged areas.
With six offices spread across four different states, logistical issues can quickly become a problem, which is what led URI Director of Operations and Assets, Mike Agresta, to the Invisi-Tag inventory management solution.
Lost and misplaced equipment is a reality of the business as URI has around 3,300 pieces of restoration equipment between the six offices and four states. This equipment is spread around warehouses, trailers, and company vehicles, adding an additional layer of complexity to Agresta's responsibilities.
URI knew of Invisi-Tag thanks to Agresta's predecessor, however, it wasn't until he reached out to Invisi-Tag for our inventory management system and RFID technology a year ago that completely reshaped the way Agresta and URI do business.
With the help of Invisi-Tag and our revolutionary equipment tracking system, URI transformed its operations into a quicker, more efficient, and budget-friendly process.
"What stood out right away was the RFID reader and how quick it was and the reports are pretty detailed," Agresta said. "I can get reports on any job, any location, and it's all right there instead of trying to find paperwork or talking to the guys about where the equipment was."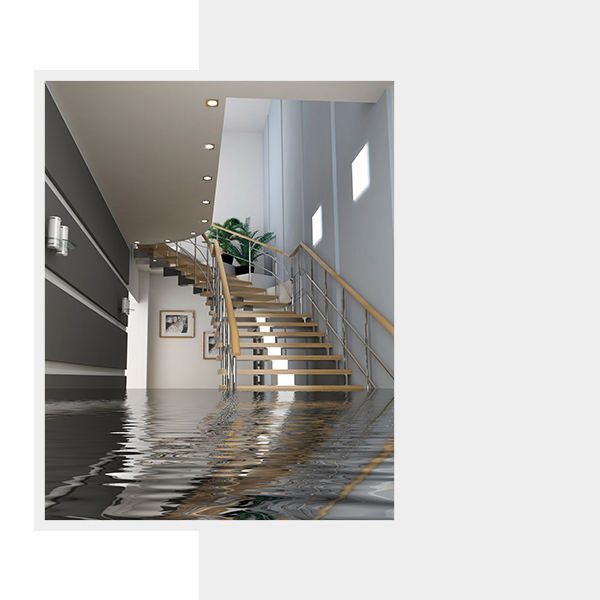 CHALLENGE
The sheer size and scope of Unlimited Restoration Inc. made tracking each one of the 3,300 pieces of equipment a nightmare for Agresta in the old system the company used.
Designed in-house, URI's old way of doing inventory and tracking equipment involved scanning each individual item and writing all that information down on a piece of paper. The labor and time to complete this task were extensive.
The URI Baltimore warehouse would take a week on its own. Each hour spent doing inventory was an hour lost for the technician to be on the job site and generate revenue for the company. URI couldn't afford additional labor just to do inventory, and even if they wanted to, it would be a waste of resources.
And that doesn't even take into consideration the complications that come with keeping track of physical paperwork in each office.
"In the old system, they recorded everything on paper, which turned out to be a nightmare because if that trailer wasn't deployed in a couple of months, we really didn't know what was on there without the paper," Agresta said. "And you know how paperwork goes — it ends up getting lost in some folder somewhere. Within Invisi-Tag now, the trailer is considered a location and we know exactly what's on there."
Because URI handles 70% commercial jobs, each trailer deployed to a job site carries hundreds of pieces of restoration equipment. Each of their six large trailers, which range from 48-53 feet, carry between 250-300 pieces of equipment.
Scanning each trailer would take at least 30 minutes, with lost equipment on the job site almost inevitable. Worst of all, Agresta and URI might not notice the missing equipment for half the year as they used to complete inventory maybe twice a year just because of how much time and labor it required.
Invisi-Tag was exactly what Agresta needed and our partnership was born.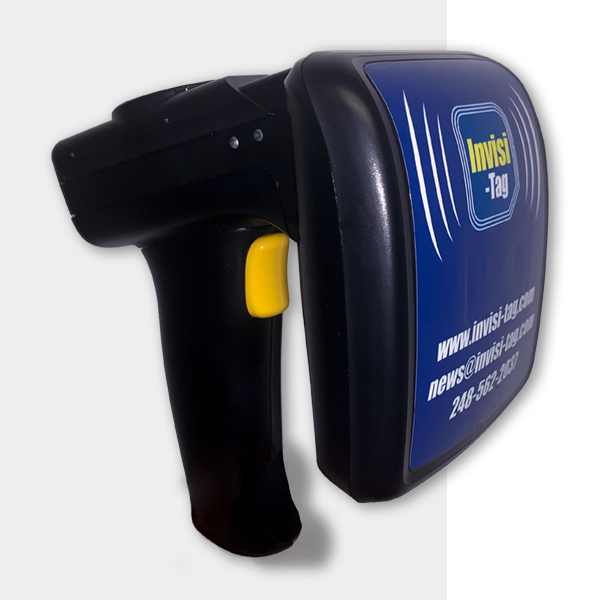 SOLUTION
A large job came to Unlimited Restoration Inc. when a tornado came through and ravaged an area of Tennessee. Within less than 48 hours, URI was on the job site with a large trailer full of equipment, ready to do the job with everything they needed.
And Invisi-Tag made it possible.
Because of our equipment tracking system and RFID reader, URI can now accurately complete inventory in a fraction of the time, whether it be a warehouse or an individual trailer. Agresta and his technicians now complete inventory once a month, allowing them to know exactly where each piece of that 3,300 equipment is at.
Now when a new job comes in, URI is loaded up and ready to deploy, increasing the efficiency of its operations to provide more prompt and complete services for its customers, all while saving time and labor costs internally.
Factor in that URI can apply this solution to their six separate locations spread around four different states, and you can imagine just how vast the cost savings is for Agresta and the company.
"Setting up a job with Invisi-Tag and scanning it right to that job saves a ton of time and labor," Agresta said. "The labor savings are fantastic."
One of the most advantageous aspects of our equipment tracking system for URI is our locations feature, which allows you to quickly assign several items into a single location. For URI, this meant being able to assign all the equipment to a single trailer or warehouse as a single location.
When a trailer is sent out to a job site, that trailer is a location that the Invisi-Tag system recognizes with all the equipment on it. This is helpful for ensuring the right equipment is sent out to the job and that all the equipment comes back.
We still had the location feature in Beta testing at the time, so URI offered the perfect opportunity to not only help its operations but also iron out the feature for implementation into our latest app.
And again, since URI is dealing with trailers, warehouses, and equipment in six various locations across four separate states, the ability to create an Invisi-Tag location for each makes a significant difference for organization and tracking — which in turn save time and money.
"I love that feature," Agresta said. "That helped out a lot because it went from jobs to locations, and that made the job a lot easier."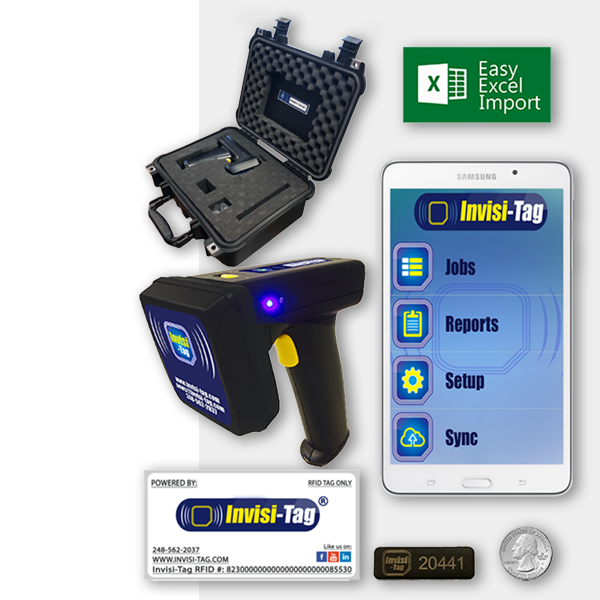 RESULT
Remember that warehouse in Baltimore that used to take a week to scan and log? With Invisi-Tag, Unlimited Restoration Inc. completes the task in half a day. Trailers that used to take at least 30 minutes, URI technicians complete the RFID scan in 2 minutes.
Agresta's technicians now spend far less time scanning equipment and more time at job sites completing billable work for the company. Each commercial job that URI completes is usually invoiced for $20,000 and up, meaning the business makes money for the labor costs instead of losing it.
And that's not to mention the thousands of dollars saved from lost restoration equipment spread between the six offices and four states. The RFID technology of our readers allows URI's technicians to scan equipment through drywall, doors, etc. on the job site when preparing to leave.
The company's "team coordinators" check to see if any equipment was left behind before sending out an invoice, and if the equipment was left behind, they can immediately alert the project manager to have the equipment recovered.
In just more than a year since URI started using the Invisi-Tag equipment tracking system, Agresta has already seen a significant return on investment for the business.
"Absolutely. Our biggest issue was scanning the equipment and with the RFID readers, it's just saved a ton of time," he said. "It frees the guys up to go out and do the job and not spend a week in the warehouse."
Invisi-Tag has also helped URI on the administrative side of the business thanks to our partnership with PSA, the software company that URI uses for invoicing. We've integrated with PSA so that information in each software is easily sharable with the other.
We are currently integrating our location feature into PSA so all job locations will pull from PSA to Invisi-Tag, and all you'll have to do is update the Invisi-Tag app to gain this integration.
And as always, our team is here to help train your company on how to use our easy-to-use inventory management system and offer on-going support should you ever had questions.
"The ease of the system (is great). It took a little bit of training, which we got from Invisi-Tag and the guys grasped it well," Agresta said. "And the accuracy of the tags is far better."
"Every time I've reached out to (Invisi-Tag), they've been quick to respond and have given me great feedback and always answer my questions."
Let Invisi-Tag Help Save Your Business Money!
Unlimited Restoration Inc. is just one of many businesses we've helped save time, money, and reduce lost equipment thanks to the revolutionary Invisi-Tag equipment tracking system. We can help your restoration business as well. Simply contact us to learn more about equipment tracking, RFID technology, and purchase Invisi-Tag today!